In the Facebook Developers Conference F8, company founder Mark Zuckerberg has introduced a new design of the popular social media platform, Facebook. In this new design the news feed will be completely replaced. Apart from this, Facebook has focused on the privacy of social media platforms. Since the launch of this new design, the signature blue banner on the social media platform has also been removed. In this new design, Facebook's messaging app, online market place and video on demand site has been showcased. Apart from this, the company has also released Social Circle for Business. Users will get a secret crush option for dating. Users will also be given a tool to book an appointment for Facebook Dating.
On this occasion, Facebook founder Mark Zuckerberg said, "As the world is becoming more and more involved, we need the meaning of intimacy, which is more than ever before. So I believe that its future is private. This is the next chapter for our services. Earlier in March, Zuckerberg had promised that there would be a change in the social media platform filled with this advertisement. Apart from this, the main goal of the company is to secure the data privacy of the users. The company has identified private messaging, short-lasting stories and small groups to speed up online communications.
New Look of Facebook :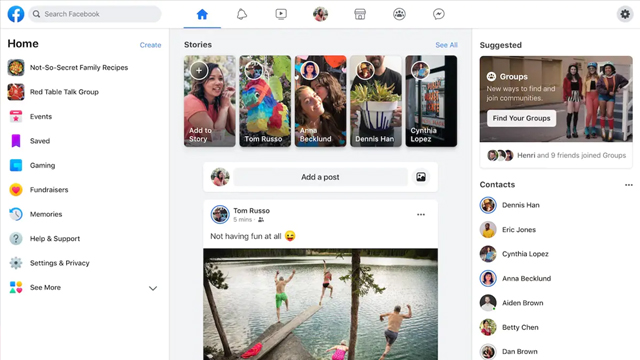 Facebook has focused on making the new design more private and encrypted, which can make communication more personal. Apart from this, there was also a challenge to rumors on Facebook and fight with Fake News. Since last year, there have been many controversy over Facebook data privacy, due to which Zuckerberg has focused more on privacy for controlling these Fake News. Work on Light Speed ​​to make Facebook Messenger app even better, which will make the app smaller and faster.
The desktop version of Facebook Messenger was also introduced for Windows and Mac users. This feature has been called Product Catalog for WhatsApp Business. This feature will be rolled out by the end of this year. Apart from this, Facebook has made several changes in the Instagram this month. Many pages and profiles have been removed, apart from the likes of many users of photos and videos. Many users will now be able to watch videos together in Facebook. This feature has already been rolled out. Many users had expected that all three Facebook apps – WhatsApp, Facebook Messenger and Instagram – would be integrated together. At present the company has not made any such announcement. Apart from this, the Facebook dating app will be rolled out in 14 new markets.
Read Next : 6 Tips To Keep Your Facebook Account Safe